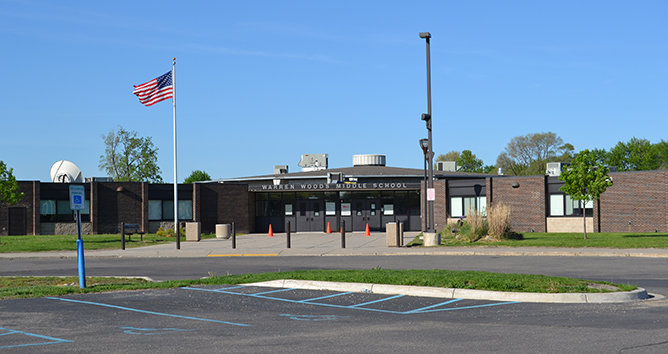 Mission Statement
The mission of WWMS is to instill in students the knowledge, 21st century skills, and social responsibility skills needed to experience success in the work force or higher education. We commit to utilizing research-based best practices, technology, and collaboration to help students meet district, state and national standards. We will use a multitude of behavioral and academic interventions to ensure student success.
District Latest News

View Archives
March 12, 2018
3-12-18 School Safety Communication
March 6, 2018
3-6-18 School Safety Communication
January 25, 2018
Substitute Paraprofessionals Needed
Warren Woods is in need of Substitute Paraprofessionals!
Are you interested in working with students in Warren Woods? We are in need of substitute paraprofessionals to work with our students and staff. If you are looking for a rewarding position, please follow the link on our employment page to apply! Employment
WWMS Community Calendar

April 25
Early Release
1:10 PM
WWMS
Early Release
Apr 25
1:10 PM
WWMS
WWMS Community Calendar
Softball vs Chatterton
4:30 PM
Warren Woods Middle School, 13400 Twelve Mile Rd, Warren, MI 48088, USA
Softball vs Chatterton
Apr 25
4:30 PM
Warren Woods Middle School, 13400 Twelve Mile Rd, Warren, MI 48088, USA
WWMS Community Calendar
April 26
Health Club Meeting
8:15 AM
Health Club Meeting
Apr 26
8:15 AM to 8:42 AM
WWMS Community Calendar
Book Club Meeting
3:15 PM
Room 510
Book Club Meeting
Apr 26
3:15 PM
Room 510
WWMS Community Calendar
Track vs Kennedy
4:00 PM
Warren Woods Tower High School, 27900 Bunert Rd, Warren, MI 48088, USA
Track vs Kennedy
Apr 26
4:00 PM
Warren Woods Tower High School, 27900 Bunert Rd, Warren, MI 48088, USA
WWMS Community Calendar