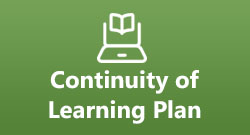 As we all begin to manage our "new normal," WARREN WOODS is as committed as ever to focusing on students and their futures. Although our buildings are closed, district administrators and teachers have been tirelessly working on our Continuity of Learning – COVID-19 Response Plan that will allow students and teachers to stay connected while providing students with weekly activities and engaging lessons. We recognize this is a challenge for students, families and staff. However, we also believe that by working together, a school community can remain connected and continue to thrive even if the school building is closed.
Knowing that students, staff and all of our families are facing a situation that is constantly evolving, we acknowledge that providing education in the same way we normally do during the fourth quarter is not realistic. Likewise, parents working from home cannot be expected to be the sole providers of their children's learning. Our number one goal right now is for students to feel safe and supported during this time, while offering them the opportunity to advance their learning and create an environment that is predictable and meaningful.
We recognize that a school community can remain connected and continue to thrive, even if the physical school building is closed. Warren Woods educators support remote learning that emphasizes interaction and authentic and differentiated learning opportunities that help students stay connected to teachers and classmates while easing the transition from traditional to remote learning. Additionally, developing consistency for remote learning on which students can rely is key as they and their families adapt to these unprecedented changes in education and society, in general. Successful, consistent remote learning includes:
• Clearly articulated goals
• Cross-curricular collaboration to focus instruction
• Options for students that tap into students' interests, readiness levels, and learning styles while providing families flexibility
• A mix of real-time, flexibly timed, technological, and non-technological options, that avoids penalizing students for their choice
• A common platform where students can access work and find support and resources (for both online and non-online work).
• A clear plan of communication involving the school, teachers, students, and families.
• Genuine interest and effort in supporting students' social, emotional, and academic growth.
Please click here to access our entire

Continuity of Learning Plan.
Please click here to access the

Macomb GSRP Continuity of Learning Plan.